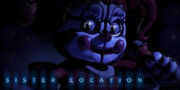 Five Nights at Freddy's: Sister Location is the canon spinoff of the Five Nights at Freddy's series. It's trailer was released on May 21, 2016. The game released in October 7 2016. It has some connections with the novel, Five Nights at Freddy's: The Silver Eyes
In this installment, the player faces seven new animatronics: Funtime Freddy, Bidybab, Ennard, Funtime Foxy, Ballora, Minireena, and Circus Baby, all of which feature toy-like designs, pink and white color schemes, and segmented faces.
Steam Description
Edit
The game, Five Night's at Freddy's:Sister Location, is now on steam here, [[http:// store.steampowered.com/app/506610/ store.steampowered.com/app/506610/]] ...
Description :-
Edit
"Welcome to Circus Baby's Pizza World, where family fun and interactivity go beyond anything you've seen at those *other* pizza places! Now hiring: Late night technician. Must enjoy cramped spaces and be comfortable around active machinery. Not responsible for death or dismemberment."