The Five Nights at Freddy's Wiki is a wiki about the point-and-click indie horror game, Five Nights at Freddy's. There have been 7,006 edits and 126 articles since August 2014.
About
Five Nights at Freddy's is an indie point-and-click horror game made by Scott Cawthon, and it was first released on August 8th, 2014. The Five Nights at Freddy's Wiki aims to document all aspects of the game. Since this is a wiki, you are free to change information about Five Nights at Freddy's here.
Browse the Five Nights at Freddy's Wiki
How to Contribute
Remember to read the rules!
Remember to read the wikia chat rules!
Know anything about the game we don't have? Feel free to edit!
Don't know where to start? Some articles in particular need some work.
Do NOT vandalize a page, or you will be banned! Adding fan-theories is also discouraged.
Have a problem? Report it to one of our administrators, and it will be fixed.
Create a page! Fill this in, and you're set!
Friends of the Wiki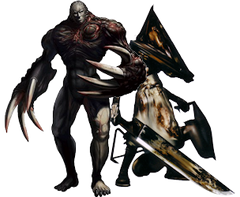 Horror Games
Go to these sites for info or for help with your own wiki!
Alice • Alone in the Dark • Amnesia • Bendy and the Ink Machine • Bioshock • Clock Tower • Dead Space • DreadOut • Fatal Frame • Five Nights at Freddy's • FNaF: Sister Location • The Last Door • Lost Alpha • Outlast • Resident Evil • SCP: Containment Breach • Silent Hill • SOMA • Spooky's House of Jump Scares • S.T.A.L.K.E.R. • The Evil Within • Until Dawn • White Day • Yomawari • Yume Nikki
Want your community included? See how!

Chat
Join the Chat>
Gallery
What's the best game in the series in your opinion?
Create blog post
Blogs
Hi, my name is Anjili Tanaka, but you can call me A.J.!




First Name: Anjili

Last Name: Tanaka

Nickname:…

Read more >

Hey there! My name is Terra

but you can call me CJ

Anyways here are some of the Cartoons I watch:

1: W…

Read more >
See more >
Ad blocker interference detected!
Wikia is a free-to-use site that makes money from advertising. We have a modified experience for viewers using ad blockers

Wikia is not accessible if you've made further modifications. Remove the custom ad blocker rule(s) and the page will load as expected.